2005
5/23/05
Just wanted to thank you for going above and beyond when it comes to selling tickets...the gift card is great and you rock for taking the extra time to put it together...if i'm looking for tickets in the future i'll definitely check with you first...
thanks again,
John T.
8/1/05:
Sorry I missed your call. I had my accountant send the check out today. so you should get it on Sat... Hope that was O.K. Call me when you get it. and thanks for your patience. I owe you a cold one. business is good thanks for asking, and you take care. and I will talk to you soon.
thanks
Joe C.

9/2/05
I thank you VERY much for doing this.
Hopefully we'll do business again in the near future.
Best, Kathy

9/13/05
Wow, you guys are good. Hope to be doing business with you again..
Thanks a lot.. go Niners
Jaime M.
10/29/05
Thanks! I will definitely refer you to others and refer back to you in the future!
Will L.
Editor's note: Here is an email from a ticket broker in Canada to his client. We assisted Jeff with tickets for one of his other clients.
-----Original Message-----

I do not personally have any additional tix to this game although you should check out: https://www.49erTickets4sale.com
He is the single best broker of tickets for 49er tickets. His website is excellent showing the exact location of the seating he has available.
His service is excellent and tickets will arrive to your attention very quickly.
I have provided his email address in cc line to help initiate the communication.
Cheers.
Jeff C.
10/20/05
Received them. They look awesome, thanks for your help.
Ben G (Jeff's referred client)
10/16/05 Thank you so much!! AGAIN, thank you for your understanding. It was wonderful doing business with you. dk
11/17/05: Thanks for your

honorable

approach. I will be sure to use your site again. Regards, Tracy N.
12/31/05
Got them. Thanks for the prompt delivery, I appreciate it. I'll contact you for more next year.
-Ali
Back to top
2006
4/18/06:
I bought these exact tickets last year for the season opener against the Rams. ...I love the seats and I have confidence in your reputation.
I don't want to buy anywhere else.

We (my family) are 9ers faithful from Riverside, Ca. We love the city
(SF) and look forward to this game every year.

Jesse A.
4/19/06
Believe me as far as good prices compared to stubhub, and others you have great prices!.

- Will
6/9/06
Thank youl! You are very awesome!!! This will work and we'll be the ones in red and gold at the game (hee hee).

Barbi
7/15/06


It is my son's first pro game and his favorite team in the world. It is an 11th birthday present for him so I really appreciate all the information you provided about the seats. It's nice to have an online seller that takes the time to explain things and does it so quickly!

I really do appreciate the 50 yard line tickets and I am sure that they will be awesome! Also, thanks for the tip about autographs. It is very rare to find someone in this type of business that understands customer service and what going the extra mile can actually do for future sales. Rest assured that I will be back and so will any of my friends and colleagues looking for tickets.

Thanks again!

Troy B.
7/17/06


Will do. Thanks for honoring the offer. This was one of the smoothest and more enjoyable transactions I've done online (eBay included).

Thanks,
Aaron S.
8/13/06
Just wanted to say thanks for the tickets for the 49ers game for last friday, the seats, the match and the atmosphere was great. Thanks again, Ross.
8/29/06
Actually, I agree with the comments above - from Troy B. You are providing a service and taking the time to work with people definitely helps your business and make people comfortable about doing business with you. I made the purchase before having written confirmation of our agreement, but I believed you were honest! I also had an ebay seller offering 4 LE 35 yrd line tickets row 14 at $225 (but the ad was very misleading and his answers were defensive), but did not want to do business with him.

Many people will pay a little more if they feel treated fairly and someone is being honest!

Thanks again,

Brian B.
9/1/06


....I so appreciate your working with me on this sale. I am so very jazzed that it all worked out, and I am definitely going to be looking for my other tickets thru your website. Probably won't be able to get any for a few more days (after I get paid) but I hope that I can do so then.


Thank you so much for taking the time to work with me. You're the best!

Vanessa
Back to top
2007
4/16/2007


I am a returning customer, this will be the my fourth year in a row going to the opening game and I will not buy my tickets from anyone but you. The service you provide is great with no hassles and the prices are always fair......

Thanks and let me know.

Jesse A.
6/15/07: That is GREAT! I think my Dad will be pleasedÖit has been a while since he and I have done this together and as we both get older there is no telling how many more chances there will be left. And yes, I am also a Dad, so thanks! Happy Fatherís Day to you as well.




-Kirk
7/31/07: Thanks so much for setting this up........my son is going to be thrilled!! - Jack P.
8/16/07 -


I just wanted to thank you again for your help with the tickets. I am looking forward to the game and promise to use your service for the next game. Have a great evening!

Jill L.
8/16/07:

Just wanted to touch base with you again this year. I just purchased all 6 tickets in UR22. I bought 2 last year and they were great seats. This year I have a bigger group and was pleased to see that they were available.

Thanks.

Tim M.
8/27/07: I'm not too familiar with the street names up there ...can you help me with the rest of the directions please :o)

Thanks!
Meghann
P.S. I just gave my husband the tickets and he loves them :o)
9/6/07: That sounds great. Thank you, I received the partial refund. I will definitely have my ID on me and should be there [at Will Call] around the same time.
Thanks,
Leeann

9/11/07: If you could get me the same tix for the Saints and Bengal games, I will take them. Awesome seats. - Kurt S.
9/22/2007


I just wanted to say thanks. Honestly I was a little nervous but I received the tickets today and we're very happy. My husband was surprised that I found such great seats. We've never had seats this nice before for any game!

Thanks again and I look forward to doing business with you again.

Beth
9/7/07: haha... MUCH APPRECIATED! I... WE (I have to start remembering that WE soon) will take you up that offer... Thank-you for all your assistance. I guarantee we will have a GREAT time!
Go Niner's
Bob
10/25/07: Just received the tickets. Everything looks perfect. Thanks again, I'll be sure to check your site for any future games. - Simon B.
10/29/07


The game was definitely fun for us. I must say that those seats were great!! We had a great time and the surrounding season ticket holders and fans were nice. When the Saints return to play again I will definitely look you up for ticket assistance. Thanks again for your help with the tickets.

Ryan
11/5/07:


Thanks for the follow up email. I attached a couple of pictures for you in case you wanted an updated picture of what the view from section 14, row F looked like. Feel free to pass them onto to your future customers!....


We took your advice on parking and it worked out beautifully. .... It was awesome being in Candlestick/Monster Park and we'll never forget it! We loved the garlic fries and strawberry lemonade!

Thanks for all your help and expert advice!




Thanks!




-Lucy M.
11/5/07: will purchase tonight and will have our friends get in touch with you on purchase of other tix. thanks again! will do business in the future for sure.... Joy B.
11/6/07: Thanks for checking in. Actually, I didn't go- my hubby and his friend went. He had a good time and said the seats were really good. - Jessie O.
11/6/07
I definitely enjoyed the seats. Great seats! However... at the time of purchase I was thinking I would see an awesome 49er team Ė instead they didnít show up.. All in all I will do business again.
Regards,
Robert F
12/16/2007
Y
es!, that would be fantastic. The same tickets as last time. Those were phenomenal seats and I'd love to get them again. - Francisco
12/25/2007
hey i just wanted to send you a quick thanks for the amazing seats, great service, and quick response. we had a great time! i hope to work with you in the future.
thanks again,
Back to top
2008
5/21/2008
PS: I read the ďcommentsĒ section and really appreciated what your customers had to say. I can echo that by telling you I really appreciate the time you have taken to ensure I make a good decision. Not just seat choice, but my budget and the type of experience Iím looking for as well. -- Lisa F.
6/7/08
I really appreciate your willingness to accept my bid... and your immediate feedback, and helpful suggestions.
Again, thanks alot. You've made this really simple.
Roberta R.
6/16/08
you guys are GREAT
thank you so much!!
thanks again, i hope i have another opportunity to work with you in the future!
You have been super responsive, full of information and willing to work with me on pricing, I appreciate all youíve done and you made me look like a super star with my friends.
Thank you!
marsha.
6/27/2008
...Once again I appreciate your prompt response and your good service.....Thanks for your help, you sound like a cool and reasonable person. Thanks, Daniel C.
8/6/2008

Thank you for your extra courtesy. My son and I have looked at the charts and feel that the tickets in LE37 are perfect for us. What a great service you have........

I already got my refund. You have one slick operation...... This has been the most painless and ideal way of getting tickets I have ever seen. I got to see where I was going to be, and yes, I paid a premium, but it was worth it.
.....Feel free to use my comments as they are most sincere. - Jon E.

8/30/2008

Hello. Just wanted to give you a huge THANK YOU. My girlfriend and I were extremely pleased with the seats we were able to purchase from your site, at a GREAT value! You have a great service set up, and I would recommend you to all my friends. THANKS AGAIN!! - Gerardo R.

8/30/2008 (About the seats in UR56)

I really enjoyed the game from our point of view. If you have any other tickets for future games with the same seats, please let me know. Thank you again! --Jorge P.
8/30/2008 - (About the seats in LB14 Row C)
....My wife liked it the most.. One of the kids was obsessed with getting on TV and liked being down low...... It was a different experience for sure.. But a good one. Thanks again. --Keith
9/3/2008


...I will get back to you..thanks for responding..and you have the most professional and easiest navigating system for purchasing tickets. -Jeannie

9/18/2008


Yes it is a surprise gift. Thank you so much for your help and I wanted to let you know I plan on telling everyone nice things about your service! - Michelle B.
9/18/2008 (A customer from Mexico who came up to visit SF.)
Thank you very much, I received the tix, excellent service I'm going to recommend you.
-Jorge

Mensaje enviado desde mi BlackBerry de Nextel
10/1/2008
Thank you. I will keep your information for future games. You are great to do business with.
- Celestia H.
10/13/2008
I just wanted to thank you for the 49er tickets. It was the first time I had ever bought football tickets. I bought them for my husband, son and father in law and they said they had the best seats ever. I really appreciate it. I will be contacting you again because I know they want to go back for the niner seattle game.
Thanks again, Tina E.
Back to top
2009
8/5/09: Got the tix and went to training camp. it was a great experience. took a few pics, nothing as good as the ones you showed me. wanted to thank you again. had a fantastic time and can't wait for more. Thx for your great service. Much appreciated. - Ben D. (Menlo Park, CA)
8/6/2009
Yes, please! I didn't even think about that! You really are the best, in fact I gave your contact info to another one of the wives and let me tell you, her family entourage is ginormous. She is always looking for tickets!!! Hope it all works out! Thanks again! Many blessings! - N (Santa Clara, CA )
8/10/2009
Dear 49erTickets4sale: Thank you for sending tickets. Today, I received tickets. Good communication, fast answer, fast shipment. Your service was the best. I want to buy a ticket from you next time.
Thank you. Go 49ers!!
From Kenji (Tokyo, Japan)
8/15/2009 The seats were great! Thank you so much for your kindness, honesty and your follow through. It really meant a lot to me.... and we can not thank you enough for the last minute opportunity. I really hope the season goes well... for the Broncos! Good game last night - again thank you - and I will surely look for tickets and be speaking with you later in the season.
Kindest Regards,
Sarah (Oakland, CA )
8/24/2009 First off, thank you sooooo much for the awesome seats! My wife and I especially loved the extra leg room (it gave us more space to walk around and high-five surrounding 49er fans when it was time). Also, being a first time customer,
I have to mention your customer service is impeccable
. You cleared up any confusions I had very promptly, and the transaction went as smooth as any could. I really do appreciate that! Be assured, the next time I need tickets to the game, I am definitely going to use your service again, and again, and again! I can't thank you enough! NINERS!!!!!!!!!!!!!
Mahalo,
Paul (Sacramento, CA)

8/24/09: Yeah those were some sweet seats. Wish I could afford those seats during the regular season. I will definitely keep in touch with you this season. Thanks. Take care.
Abraham F. (San Jose, CA)

8/29/09: We really enjoyed the game and liked the seats and parking location. It was a pleasure doing business with you and will do it again! Thanks, Jim Erin and Jessica (Livermore, CA)
10/23/09: I received the tickets and the PayPal credit! Here's another one for your testimonials! I don't even need to sit in them to know they will be fantastic! Thanks again for coming through with quality seats year after year.
More importantly, thanks for the professional and exceptionally fast responses and delivery. You are and always will be my first stop for quality seats at 49ers games. As in the past years, it is a pleasure doing business with you and I look forward to the next season.

Thanks - I mean the compliments and would not take time to write if it was not true! I appreciate it!

Brian - Santa Cruz
Back to top
2010
7/26/10: We are looking forward to it! And I will keep you in mind for my first resource for tickets. Thanks for being so pleasant to deal with. - Jen (Marin)
7/26/10:

49ertickets4sale.com was one of the more easier websites to navigate through to find great tickets.

On top of that I inquired about some tickets and received a response within ten min via email.

They were very helpful and timely and I also got a great price on some great seats.

I will definitely be using this site again for the next time I need to purchase some tickets.


thank you once again hope these comments will help to get you more business in the future

best regards doug (Santa Clara)
7/28:10 These tickets really are the best deal out there right now. As always you guys are great!
- Ricky M. (Sacramento)

7/29/10: Thanks for the info and the easy transaction..
-Dave B. (San Jose)
9/30/10: Hi again! Your website is very user friendly and helpful. I will proceed with looking for tickets through your website. Thanks again for the quick response and info! Best Regards, Greg

10/27/10 Thank you for calling me back and telling me about the tickets over phone. It means alot to me. Once again. Thank you and I know my sister will enjoy the game. Thanks again,
- Amanda A (Concord)
10/28/10 - Thank you once again for your ease of services. Will contact you again next year if I am alive.
Great service thanks again!
- John W (Oxnard)
1/2/2011- ...the seats were great, thanks! I'm pretty sure I'll be visiting your website for tickets again next year...
- Shaun O. (Danville)
1/3/2011 - Thank u 4 all yr help. Nic&I had a really fun time. We look 4ward 2 going again next Fall. Happy New Year. - Karen (Santa Rosa) [Note: Sent via text message]
1/4/2011 - Thank you so much, our first American Football game was fun.
Thanks for being so patient and helpful with the planning process.
Happy New Year! - Deb M (San Francisco)
1/13/2011 - It's mailed. Thanks for your patience and honesty.
- Arman (Fresno)
Back to top
2011
9/8/11: I actually was going to go on the website and say that this was awesome service. Thank you, so appreciative!!! .... I truly appreciated how simple and efficient this was, and I feel that I received a fair price. Nice not to deal with a StubHub, . Thanks! - Jennifer L. (San Francisco)

9/30/11: I just received the tickets . Thank you for the quick delivery. I'm always a little nervous when I use a new ticket provider. I know you were very quick in responding to all my question, and providing a great service. I have all ready recommended your services to two more friends. Thanks again.
- Ray (Palmdale, CA)


10/24/2011: Appreciate very much the quick service. Ordered a parking pass for the Browns game this week on-line and it was delivered the next day. You will now be my first choice when looking to purchase 49er tickets.
Thank you, David S. (Sacramento)


10/30/2011
Awesome seats, thanks so much! Will definitely want to get those again. Hope you had fun!
-Julie D. (Santa Cruz)
11/14/2011
We had the great time at the game on Sunday. Wanted to thank you again for the Tickets to the Sanf game. Been a great season and was lucky to been with the Giants in sanf. You will be in our memories for life with the great time we had in sanf trip even if we lost.
Back to top
2012
1/15/2012

OMG what an amazing game!!!!!!! We had so much fun!!

We are going to purchase season tickets for the 2012 season, I just want to calmly look into it more. ..In the meantime, we need to get tickets to watch the 9ers clinch the Championship against the Giants!!!!... I want to commit to buying tickets as soon as possible ... We'd rather purchase the tickets from you given that you're a known entity, we like the seats, and that we'll most likely be buying season tickets from you. :-)

Let us know as soon as you can.

Thanks, Lupe (San Francisco)
1/27/2012


I am writing to express my absolute satisfaction with my purchase and customer service experience from 49erTickets4Sale. The transaction was very easy and pleasant as this was my first time purchasing from them. The area I was most impressed was their customer service.

... I will definitely be purchasing through them in the future as this kind of service is a rare find. Again, a huge thank you for making sure my game day experience was a great one.



8/27/2012


Thank you so much for your great assistance with purchasing 49er tickets. Your patience and professionalism are greatly appreciated not to mention your quick response to the voice message I left.




I'm looking forward to the game, especially with the seats I was able to get. Again, thank you for making the transaction effortless.

Regards,
Dawn (Palm Springs, CA)
9/17/2012

Great Service. I have used these guys for tickets far in advance and short notice. Always had prompt, and professional service: email replies, call backs etc.. Even helped me with PayPal the first time. Took my 11 y/o daughter to her first NFL game, and she loved it. So, I know we will be using this service again :) !

P.S. Interesting story: sat next to some of the Lion's players wives...No rowdies around our section, so it was good family fun. [ Editor's note: Sat in LE35 Row 7]

Ken, (Tracy, CA)
9/17/2012


Thank you for the excellent tickets to the 49-ers game last weekend. The price was very fair and hassle free (unlike stub hub). The customer service was amazing. They stayed in touch all the way until we were in our seats. I will definitely be using these guys again for all future ticket needs!

Tom (Santa Cruz, CA)
9/18/12
You guys are awesome. It was a pleasure doing business with you.
-Nicole (Redwood City, CA)

9/27/2012


WOW, great seats would be an understatement. Me and my brother have been 49ers fans for 25 plus years and are from NC. We always attend 49ers games that are on the east coast within 6hrs or so. We have always wanted to go to Candlestick and this year was it. I would like to thank you for the awesome experience that we had. we met so many great fans and while we were visiting the new stadium we ran into Frank Gore, what a great guy he took pictures with me and my brother. The seats were great in LB14 and would love to go back in the new stadium in 2014....While tailgating, when fans found out we had flown from NC just to see the game we had all kinds of invites to join their tailgate parties. We had a GREAT time and would like to thank you.........

Kevin R. (Hertford, NC)
11/12/2012
Just wanted to say thanks for the great tickets. Had a blast yesterday.
Looking forward in purchasing tickets against the cardinals.
Thanks again.
Joaquin C. (Stockton, CA)
11/12/2012
The tickets were great. We actually sat right behind Alex Smith's parents.
I was wearing my Smith jersey and at the end of the game, Alex's mom gave me a signed card. Ha!

Back to top
2013
1/7/13

Hi there. I keep forgetting to email you, but I wanted to tell you thank you so much for the 49er tickets. My son and I had such a fantastic time, a once in a lifetime experience. We flew in from Palm Springs and stayed for the weekend, so much fun. We could not have asked for better seats or a better game. I have attached a pic of my son & I from your seats :) Thanks again,
Go Niners!!!!!
Michelle (Palm Springs)

8/6/13

Thanks for everything - my client was thrilled on the fan Fest tix as well! Let me know the easiest way to handle that. I'm sure we'll be talking plenty in the future! Half my book of business was built on relationships- really preps those closing meetings well!!
Thanks again,
Tim K. (San Francisco)

8/8/13


Will be at the stadium by five. Thanks again for working with me, this is the first game my 4 year old will attend and is stoked. :-)

-Joaquin C. (Stockton, CA)
8/11/13 - The four tickets have been paid for. Thank you for all that you did in order to get these for me!!! Can I expect to receive them this week?
Thanks,
Clay D. (Monroe, NC)

8/12/2013

Thank you so much for the great service. You went the extra mile for us...We will certainly use your services in the future. Have a great evening.
Lucille D & Marcos C. (Gr.Son)
(Stockton, CA)

Note: Phone message transcribed....(8/27/13)
Hi, this is Vince and Terri.. Just wanted to call and thank you for selling us the tickets. We had a wonderful time and the seats were so awesome. (Stockton, CA)

(Note from Packers fans.)

9/9/13 - Hi, just wanted to let you know the tickets were great and we had a awesome time even though we lost the game. Thanks for everything and will recommend you if anyone we know needs anything up there, thanks again, Randy (Anaheim, CA)
9/12/13


Liked! And I already have told a few lol. I am waiting on a friend to reply back so we could buy tickets for the ATL game as well. - Veronica (Stockton, CA)



9/13/2013 - Yes, the game was awesome. Thanks again. We caught the bus right in front of our hotel no problem. I appreciated the help. If I'm up in the area again, I'd love to see the new stadium.
Best, Phil (Oceanside, CA)

9/30/2013

Thanks so much! That was so easyÖReally appreciate it, and I just paid via Paypal.
Best,

Nicole (Napa, CA)
10/2/13: thank you so much you have been incredibly helpful and amazing ...looking forward to hearing from you tomorrow.
Back to top
2014
7/25/14: I was able to print out the tickets.

Please let me know when the parking pass is available. Looking forward to the game and seeing the new stadium!




GO NINERS!!!




Thanks,
:) Craig
7/25/14: Itís my understanding if you send me the e-tickets, then the hard copy tickets become null and void. Is this true. If so, I would like the e-tickets sent to me. With my recent experience (not with you guys J ) Iíd feel better having the tickets in hand.
-Kasandra T. (San Mateo)
7/31/14: Yes, i did purchase tickets last year. I purchased the tickets for this years game 3 tickets in section 211 row 14 on July 18th. I hope i was able to get those tickets or hopefully they are still available.
Thank you for the quick reply - Eddie J.
7/31/15:

Thank you very much. Just got the link. Super excited.

Steve Rogers
8/20/14

:


I'm looking to buy 2 tickets to the 10/5 game. I bought from you last year and was hoping you had a great deal. We are traveling from San Diego.
Thanks,
Ananda (San Diego)
8/25/2014:Thanks for all the help she has them GO NINERS.......Randy
9/17/14: The seats were great, the stadium experience was awesome. As you mention, the result of the game was very disappointing. Here are a couple of pictures. I doubt we will make it up to SF again this year (we are in Orange County) but I'll keep you in mind.
Cheers,
Greg Mitchell (Yorba Linda, CA)
Editor's note:

Customer bought a pair of tickets but our owner had alread sold it so we offered to refund or to replace them with a better pair.



10/24/14: That is very generous. Thank you. Give me a few minutes to look at the seats online....

... I will take the 2 tickets in Loge 308. My 10yr old is a huge 49ers fan and this will be his first trip to the Bay Area (coming from Southern California).

Thanks,

Paul S. (

Murrieta, CA)
11/15/14: Ok thanks.... Please send me the original tickets also I would like them for a keepsake.
-Dean B. (Redding, CA)
12/16/14: ....As I mentioned, I am interested in purchasing tickets next year and I have sent your information to my friends who were with me....
Thank you again,
Robin

Back to top
2015
Editor's Note: Below is an email from one of the owners in our group inviting a friend to join us.
8/21/15
Hi Pete
Below is contact info on the website I highly recommend !!
See you Sat?
Best regards,
Paul B

8/26/15: Tickets were great. My son really enjoyed it....Nice clean stadium and the screens were impressive. I never needed to check the app for replays....I would definitely use your service again. It saved me about $50 in fees compared to Stub Hub and Ticketmaster.
Thanks,
Scott (San Rafael)
Editor's Note: In response to our invitation to come back for a future game:
9/20/2015 Definitely!!! I really like the upfront pricing and that I know I'm getting them from a legitimate source. Thanks again.
Bryan A. (Sacramento)
11/19/2015: The seats were great! Thanks.
- Ric M. (Oro Valley, AZ)
11/24/2015: Youíre the first place I plan to check whenever we go. =)
Thanks!
Eric S. (San Ramon)
12/12/2015: Thanks. Very smooth transaction!
-Jeff L. (Sunnyvale)
1/4/2016: I just wanted to thank you. Even though I could not walk very well, we had a great time and got a victory!!! The museum was awesome and the seats were awesome! Thank you again for everything. I will definitely be purchasing through you in the future.
Thanks again!
Matt S. (
Roseville, CA)
2016
11/20/16 Great seats! Thanks again! I'll keep you in mind for future games.
-Dale H. (West Fargo, ND)
11/30/2016
Thank you for the convenient transaction.
I will bookmark your site for future games and will refer to my friends as well. Go 9ers!
-Coy T. (Belmont CA)
12/3/2016

That offer seems fair. Thanks and Iíll go forward with the purchase!

Appreciate it,

-Steve (Folsom, CA)
12/12/16
You're amazing!! You taking the time to put that much effort in for us is just so nice!! ... And you can be sure your site will be the first place we look! I'm also telling everyone I know about you!!
And thank you so much for offering the museum passes. You're really amazing to offer them even though we didn't purchase anything from you...you really are so kind and generous!!
Thank you, thank you, from the bottom of my heart for the time and energy you gave to try to make something work for us. I feel very blessed by you!
Wishing you a VERY Merry Christmas and a Happy New Year!!
Blessings,
Dana
2017
9/6/17


Thank u so much!!! Highly recommend my friends and family to work with u... there needs to be more season tix owners like u... mahalo




Byron T (Hawaii)
12/3/17
You are fantastic! Thank you. I just got two tix. Iím so excited!

- Amanda L (San Francisco)
12/20/17


Can you thank the person that I bought the tix from? My kids had a blast. My youngest got handpicked to go on the field and got to Hi 5 the defense coming out of the brocade.




Mahaloz,




Jeff (Oahu, Hawaii)
12/24/17
Got the tickets game tickets and the museum tickets. I appreciate it very much.
- Paul (New Mexico)
12/24/17
I was going to email you this afternoon. Yes, very much! The seats were excellent and we both enjoyed it very much. Thank you again!! Nino (SF)
Prior email from Alyson on 12/12/17
Thanks! Our girls will be super surprised and excited! Go Niners



Follow up on

12/26/17
"just wanted to say thank you and your tickets rocked!!! those seats are awesome and we had a great time!"
- Alyson W. (Hayward)
2018
9/2/18 (Making an offer on our VIP tickets)
My first purchase was from you years ago for last MNF at the ďStickĒ against the Steelers. We had a great time!
Thanks, John L. (Sacramento)

9/6/18 No worries, based on the way things went the last time I have no concerns with that at all.
Steve N. (New York)
Editor's note: This previously satisfied customer was responding to our email about a slight delay because the owner, does not check emails until the evening so would transfer then.

09/08/2018 Fantastic. I just bought them. We are really excited! Thanks so much, I really like your site, the service, and no fees is cool. Also nice that you guys had so many options.

Look forward to continuing to seek out tix thru you guys! Go 9ers!

Thanks,
Sam (San Francisco)

2019
10/9/2019
Thanks again for the amazing seats!!! Will definitely like to get theses again!! Are you selling these seats for playoffs? - Anthony G. (Santa Maria, CA)
10/10/2019
No kidding? Very cool. I really do appreciate all the info and tickets.

I appreciate ya hooking me up with all that. It was awesome!

-Adam (Fargo)

Editor' note: These were texts when we offered pre-game field passes to a guy who was proposing.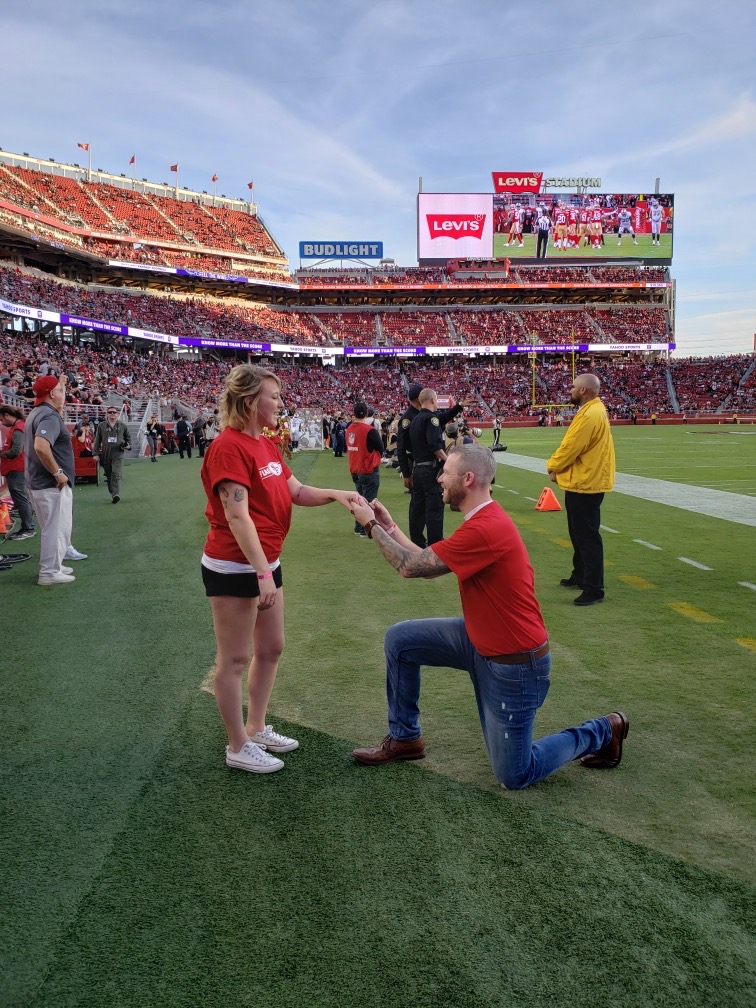 2021
5/12/21 You've always helped me out so much, I canít believe I found your site all those years ago. We have many happy memories at 49ers games because of you!

Yes I think weíve sat in C237 before and loved it. Aisle is great when available, but I like inside too. Donít worry too much about pricing; Iíve planned for this and have the money to spend.

Thanks,

J.
6/3/21
Just accepted... Thank you! No Ticketmaster fees :)
- Coz (Santa Clara)

6/4/21:
.... very excited, thanks for a great transaction.
-Ben (Santa Clara)

(Editor's note: This was for the purchase of SBLs. He can join our group of resellers.)

6/8/21

I found your site through craigslist. I went to it and found your seats and prices to be very good and right in line with market values and located all around the stadium. I have bought tix to many games in the past and found your site very easy to work with.

Thank you for a very easy and clean transaction.

Ken B. (Menifee CA)

6/23/21

Omg this is awesome! We will definitely be using you guys again and Iíll also tell my friends! This is seriously wonderful. If thereís somewhere I can leave a review let me know. Thank you so much!!

Best,
Tami (Millbrae, CA)

8/8/21
It was a great deal that I could not pass on for me and my family to watch the game so close. Best service ever, very helpful. I am truly blessed to have seen this offer. Thank you I would buy again through you.
-Claudia R. (Morgan Hill, CA)

9/23/21
Got it. Thanks for the excellent service.
Go Niners!
Aron R. (Walnut Creek, CA)


10/30/21
Will do! First time using you. Of course a little skeptical sending $$$ to someone but easy and smooth. Definitely coming back to you for all 49er ticket needs.

Aaron W. (Hercules, CA)


11/28/21
Thank you!! The seats were amazing! The food was good and it was a great game!!! You are right though.... I wouldn't want to sit anywhere else lol
Enrique C. (Rodeo CA)

12/15/21
Awesome! You'll get the worlds greatest shoutout. I appreciate the help ! And thank you for working with us and being able to give us such great deals. You truly are great.

Carrie M.


2022
7/24/22
I've already told my family and friends about this site and how great it is, I've bought some training camp tickets in the past and will try to purchase game tickets this season.

Keep up the great work!
Rory

8/6/22
Man, I am so grateful for your service. Thank You
-Eli


8/8/22
Yes we had an amazing time! Ended up getting George Kittle's autograph on my shirt and Fred Warners autograph on my bag and pictures with tons of other players. We had a blast and Trey Lance is looking good! Thanks again!
-Aaman

Note: We provided VIP tickets to Training Camp.